Stan Schleuning
Director of Admissions and Marketing

Phone: 815-273-2238 Ext: 11
Big Meadows is a private, intermediate care facility committed to meeting the physical, emotional, intellectual, spiritual and recreational needs of elderly individuals with respect, dignity and empathy. Our goal is to assist each resident in reaching their maximum level of independence. We strive to provide the highest quality care and all the comprehensive rehabilitation services each individual resident requires to attain their highest functional abilities.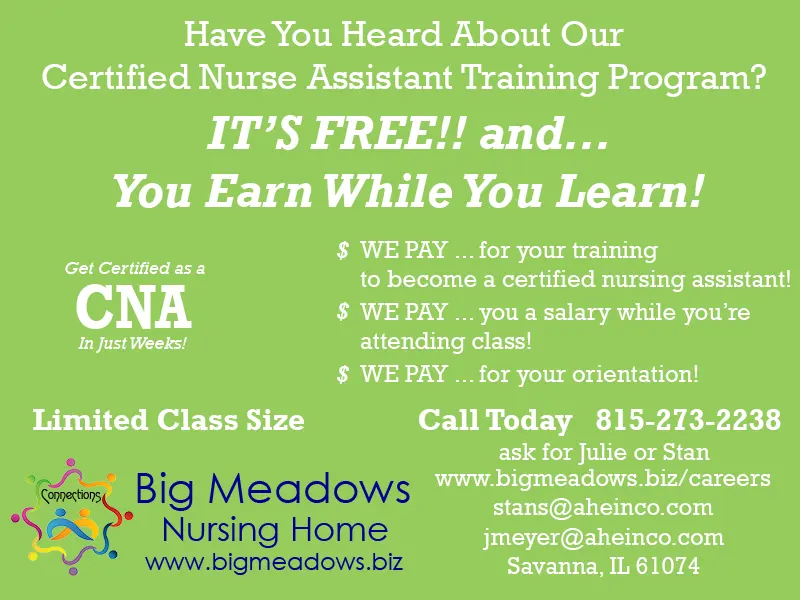 We feel there is no greater calling in life than caring for others. It remains one of the most rewarding, personally satisfying experiences people can have. We focus on excellence.
Everything we do is a team effort. We look for talented, enthusiastic people committed to achieving excellence in a collaborative environment focused on providing uncompromising services to our clients.
Big Meadows is located in the Northwest Illinois community of Savanna, a historical town on the banks of the majestic Mississippi River. Known as the "sportsman's paradise", Savanna affords a veritable wealth of outdoor activities.
If this sounds like the kind of opportunity you're looking for, we invite you to submit your resume and credentials for review. Big Meadows, Inc. is an affirmative action equal opportunity employer.
Resumes may also be submitted in plain text, Adobe PDF or Microsoft Word format.
Click here for online employment application. (Note: Please refer to the Job Description List before filling out a form.)

-or-

Click here to print an employment application
You may also mail or fax completed employment applications, resumes and credentials to:

Big Meadows
1000 Longmoor Avenue
Savanna, IL 61074
Attn: Administrator
Fax: 815-273-7294